End Game is a world champion robotics team based out of New Zealand that competes in BattleBots.
Unveiled during BattleBots Season 3, End Game quickly became a fan favourite and has appeared in the subsequent seasons going through major upgrades and refreshed battle tactics to finally fight its way to win the 2020 (Season 5) BattleBots Championship. End Game was the first international team to win the title and take home the coveted "Giant Nut".
The team of alumni from the Auckland University Faculty of Engineering, build and operate the robot themselves, with the backing of sponsors who help to support the construction and competition costs. End Game provides sponsors with global visibility through a unique platform with an international reach.
End Game is a 250lb, four-wheeled, orange box of intimidation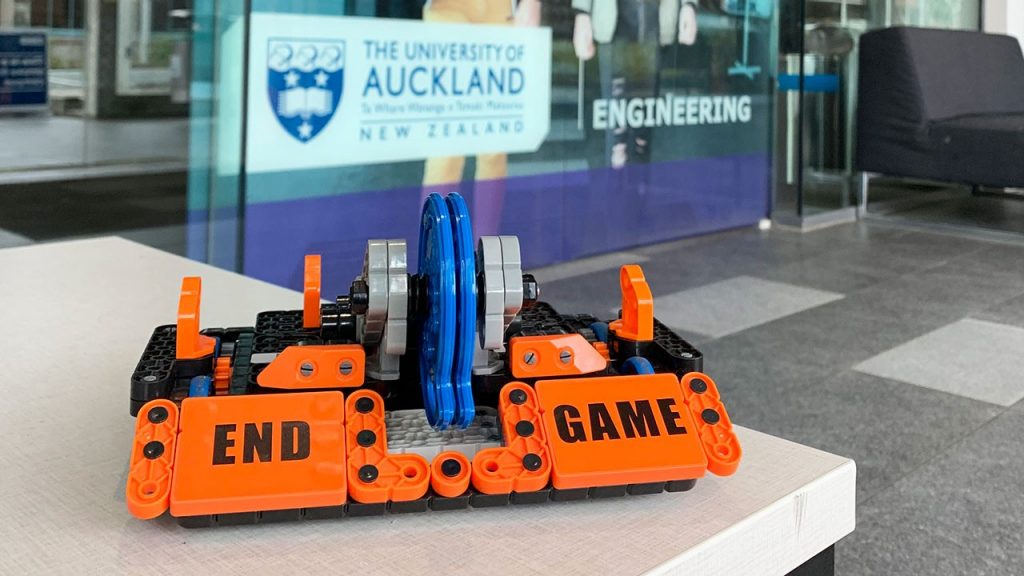 End Game itself is a 250lb, four-wheeled, orange box of intimidation with a single-toothed vertical flywheel, has been sponsored by the Faculty of Engineering/Te Herenga Mātai Pūkaha since it entered the global competition in 2018. It's powered by four custom lightweight machine motors that notably have never been damaged. During battle, it is operated by two drivers with help from 14 radio receivers.
The focal point of this monster is a 50lb disc that spins at 6,000rpm, capable of tearing through 50mm steel. It boasts four powerful motors making up the drive train, and its frame is built out of indestructible aluminium with a steel front wedge, giving it the ability to stand up to solid attempts at destruction.